Photography gets you moving. Craft and photographic vision keeps you going.
I've been so busy that getting out to take photos hasn't been on the cards for at least two days. It better be soon.
Frustration can be a bit of a mind bender when you really want to pick up your camera and take a few shots on a bright sunny day.
So, I took a photo out my window. The building opposite mine. I happened to walked past the window, look out, and I saw those beautiful soft mid afternoon shadows sliding down the wall. The curtained windows, and dark rooms created solid lines.
I took several shots. One was in black and white, but the soft pastel colour on the wall demanded colour be in the game.
---
There's something about the light that wakes up the mind. That alone is a good enough reason to take photographs.
The outcome of photography is the opportunity to spend more time considering the things that desire our attention. I pass a building in the city often, and I study its structure as I pass. I'm going some place else, so I don't have a camera with me; that's fine, I like to build up a tension by studying the object for a long time.
I see how each day a thing that I think is the same, changes with the weather, the light, and the season. Its surroundings define it more than we think.
Sometimes, it's just an incremental change, a nuance. But if you really look at things properly, as if you cared, then you'd always see that something changed. It can make all the difference to a photo.
It's as we progress with our practice of photography, that we get deeper into the meaningfulness of what we do. We watch the light change, and with it, colours dampen, or they glow more than we've noticed before.
Shadows can be many different tones and depths. The surrounding colours will always define how we perceive a shadows colour. It can be a bluish tint, or have tones of deep red. If the sun is shining directly onto a building, or if we view something on a cloudy day, it determines how bright or washed out colours are, and how the deep shadows appear.
Light is always changing. It comes and it goes, and each phase of the day offers opportunities for photographers to capture an image that exists for just a moment.
Light affects textures on walls, and streets, it can make the colour of clothes pop, and it can turn a solitary walking figure into a silhouette.
The tool — the camera, helps us to position ourselves in conjunction with the light. So to understand something about depth of field, ISO, and Shutter speed, helps us to capture not only the simple motif that we are looking at, but to do our best to keep its qualities as we capture the magic of light. To ensure that we don't over expose a beautiful shot, and miss an opportunity.
---
Below, these plants looked like simple, yellow, country plants. They smelled like perfume, and to stand close to them was like walking into a perfumery. I took the shot quickly. It's a reference shot to study later, and try to understand the best way to look at these plants; I hope to return to the same spot in a few days and get another shot. Either sunrise, or sunset will give me a better opportunity to show off their qualities, and maybe, capture them as a colour shot, this time.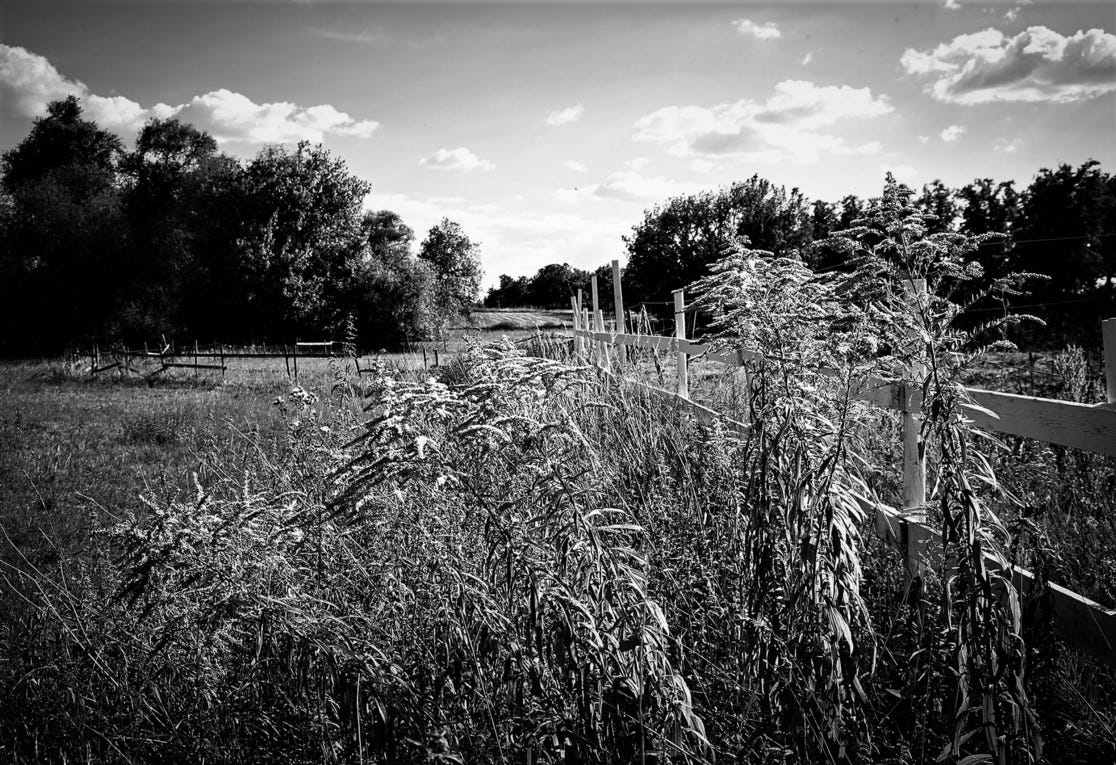 The morning light is different to evening light. Even in winter when there is a sunrise, it's not the same as a summer sunrise, an evening sunset will leave the blue sky streaked with the warmth of the day. A morning sunrise will push up into a cold blue sky, and if you're early, you'll see the beauty of a morning sun, just tipping the horizon, its glow gently spreading into the cold atmosphere of the melting dawn.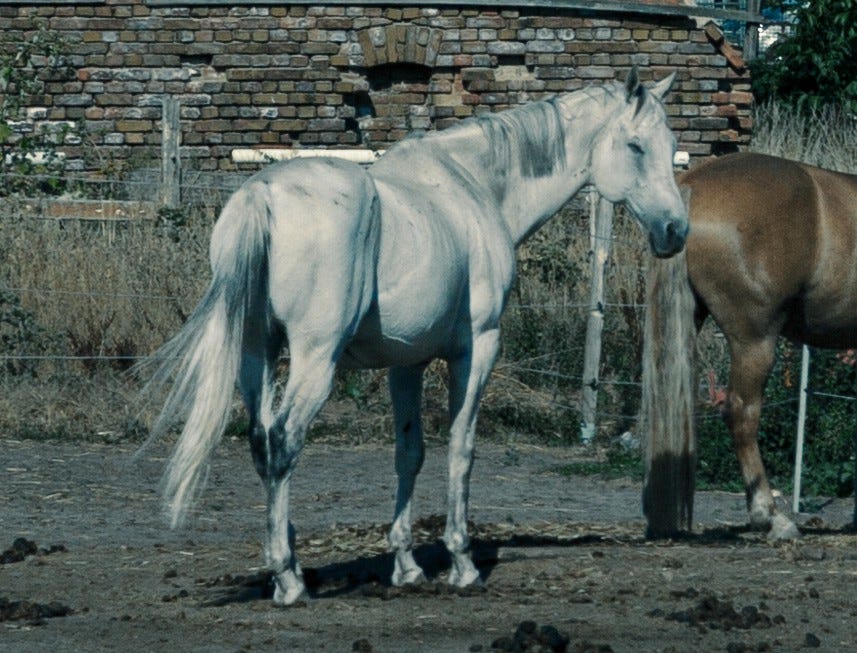 Crop of a Grey Horse in the heat.
Sunrise is a complex moment in nature. The more of them you witness, the more adept you become with understanding which aspect you personally want to photograph, what to accentuate in your photos.
Dawn has always fascinated me. The ancients already knew that at dawn, the very moment the sun tips the horizon, the sap rises in the branches and stems of plant life. The forest comes alive at this moment. Science now knows this to be true. Nature is full of secrets.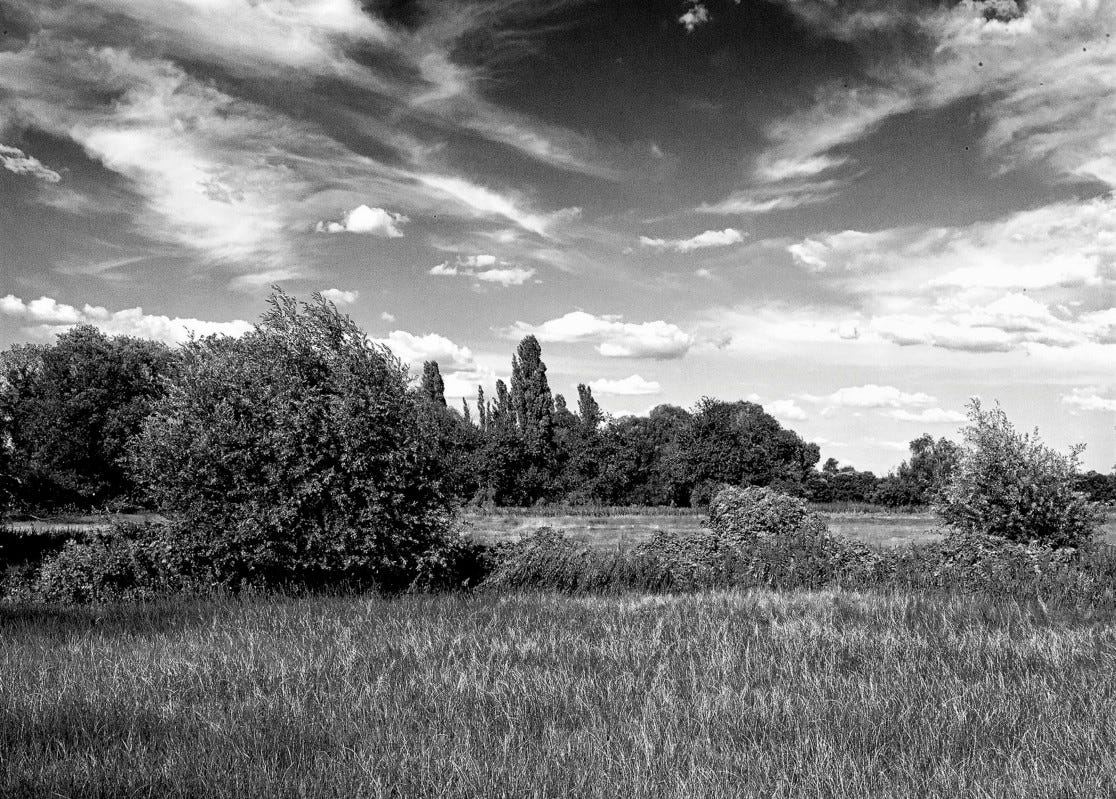 Above, there's a stronger composition in there somewhere, but it's an acceptable shot.
Sometimes, a photo looks different and better when it's enlarged — enlargements can be full of surprises.
I like to revisit locations. The more information I have about a place, the more I can 'feel it'. Then my photos and compositions improve.
I'll see good opportunities to frame landscape shots that I didn't see first time around.
I'm going to check the weather forecast, see when the next clear morning is, and be out and about for beautiful sunrise.
Till then, and thanks for reading.